For the entire distance from the visitor center to the  trailhead, I'm driving alongside one of the coolest-looking backdrops imaginable. St. Mary Lake is over seven miles long, with crystal clear water, and surrounded by massive peaks going right down to the base of the water. I may or may not have swerved into the other lane a couple times as it's truly a difficult task to keep my eyes off this amazing scene. I pull into the parking area and begin hiking the well-groomed trail down a small decline leading to the water. Knowing I need to start my hike to camp ASAP, I move through the easy but pleasant trail at an awkwardly fast pace. As I'm weaving around the slower-moving tourists, through a forest filled with torched trees from a recent fire, and surrounded by beautiful wildflowers, I hear fast-moving water and begin to get excited, as I know I'm getting close.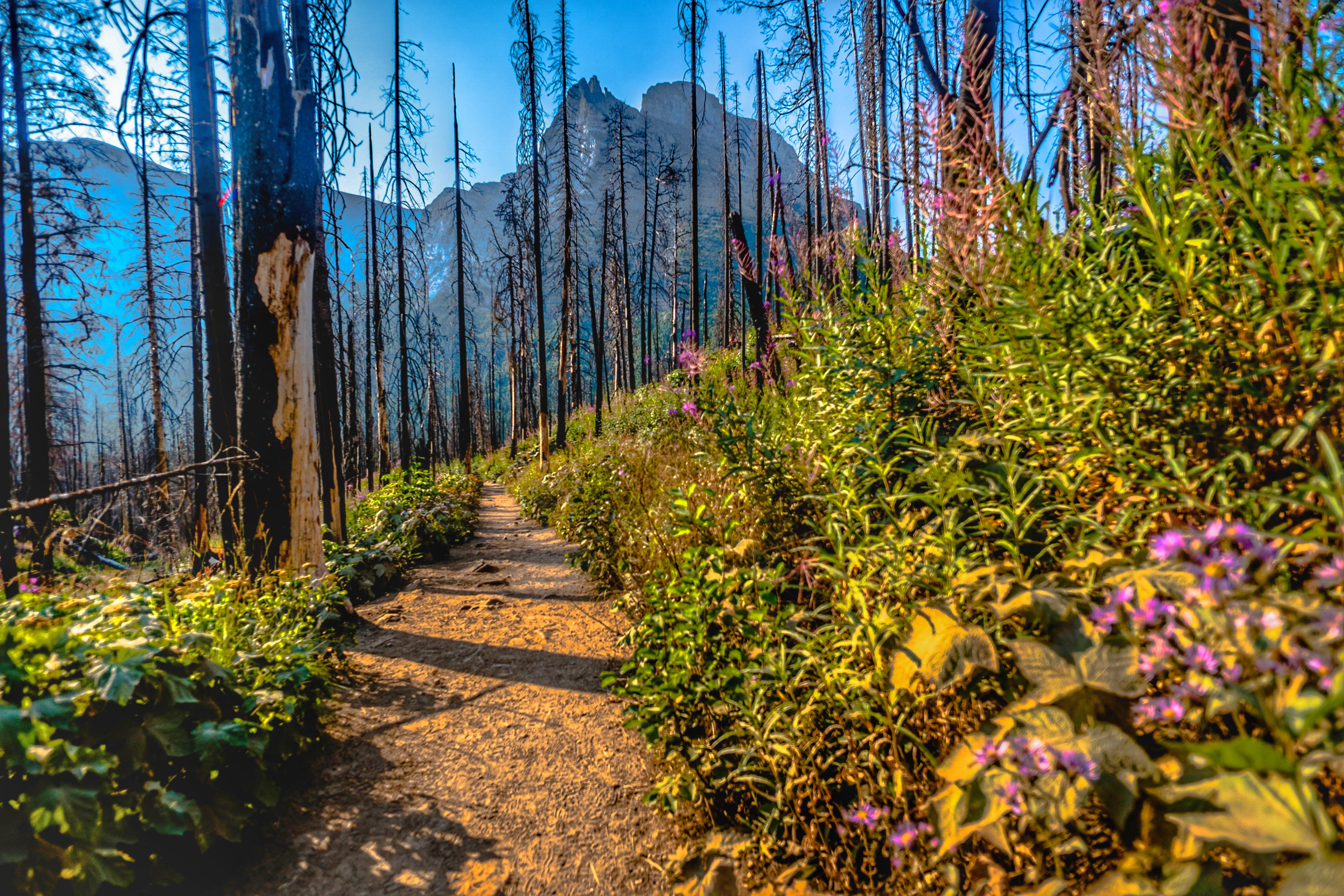 I reach a wooden bridge which is right in front of St. Mary Falls and I immediately see why so many people reviewed this a "must-stop" when visiting Glacier. I lean forward against the rail, a few feet from a photographer setting up his tripod and take in my surroundings. At a loss for words, the only thing I can say is, "Woah..."
"Woah is right," said the photographer with a big smile on his face. The first thing I notice when I walked up was the perfectly clear turquoise water. I catch myself just staring down from the bridge for over a minute as the water is nothing like I've see before and bluer than I remember in the Bahamas.  With tourists starting to crowd around me for a picture spot, I press on toward the second waterfall.
As I hike up the trail in the direction of Virginia Falls, the trees start to open up and I can see the water flowing down to the lake. I know I'm getting close and, as I'm approaching, I think to myself that I'll just get a quick picture or two, then move on. I make it to the end of the trail where the waterfall is and see the sun beginning to come up through the trees. For the second time in under ten minutes, I'm at a loss for words and all I can say is, "Woah…"
Coming into the trip, I wanted to get a few specific shots, and included on that list was a "sun star"  as well as adjusting the settings to make the waterfalls have silky-smooth water. What I wasn't planning on was getting them both in the same shot. Classic case of right place, right time.