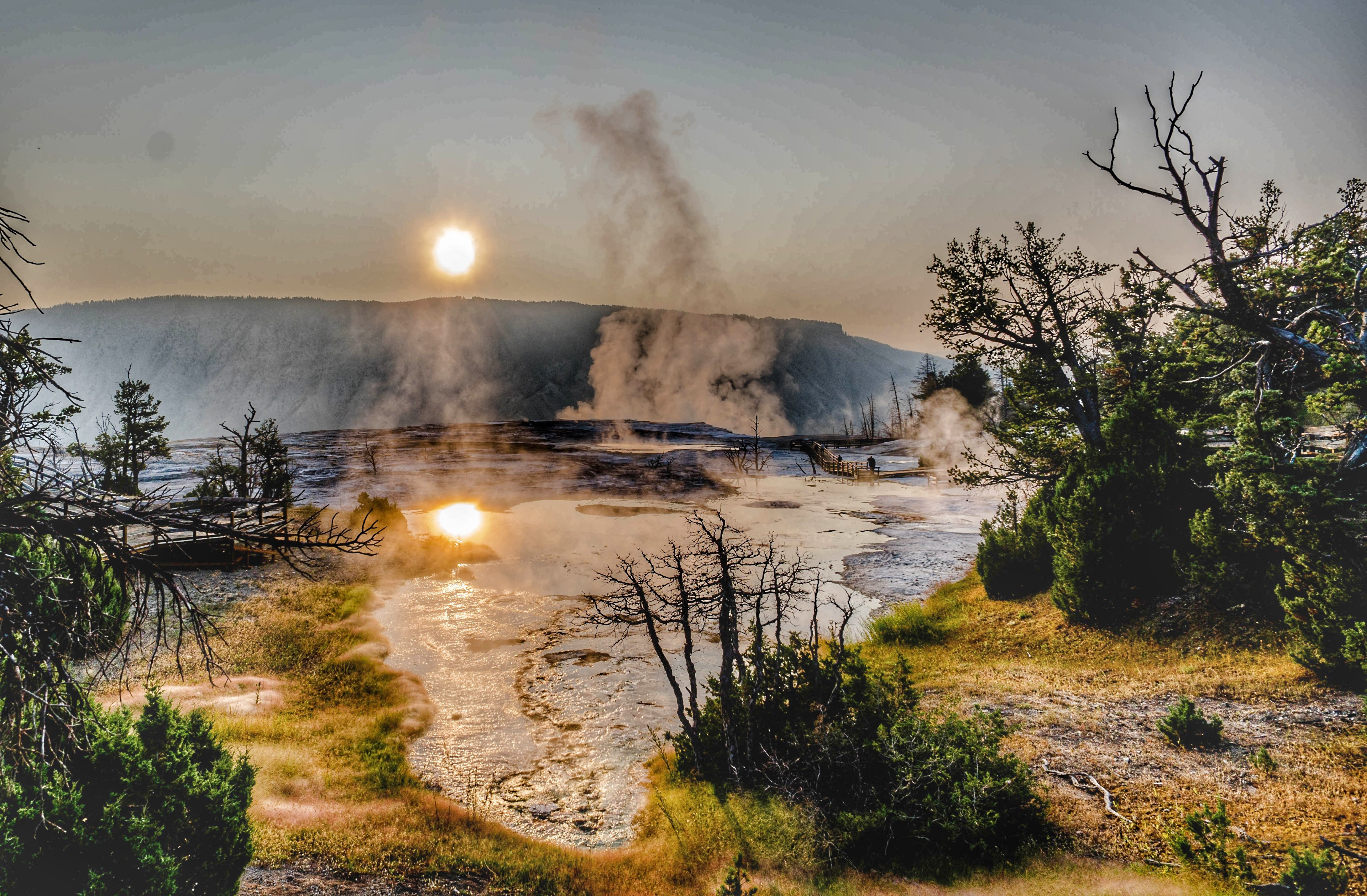 Pro-tip for avoiding the tourists at Yellowstone: wake your ass up early. Per usual, I awake before the sunrise and am immediately ready to start my day. I reorganize my car, then head back down the hill to the city of Gartner and before entering the park, I pull into a gas station to fill up and grab a very necessary cup of coffee. The backcountry office doesn't open for another hour so I head to the famous Mammoth Hot Springs to get a few shots of the iconic landmark.
          I pull into the empty parking lot right in front of the springs, grab my camera and start the quick loop. Just as I'm beginning the stroll, I see the sun rising over the hills to the east lighting up the entire area. Perfect timing, I excitedly think as I approach the main viewpoints. I pull out my camera and spend the next twenty minutes or so walking along the empty wooden walking bridge getting a few shots of the sun reflecting on steaming geysers.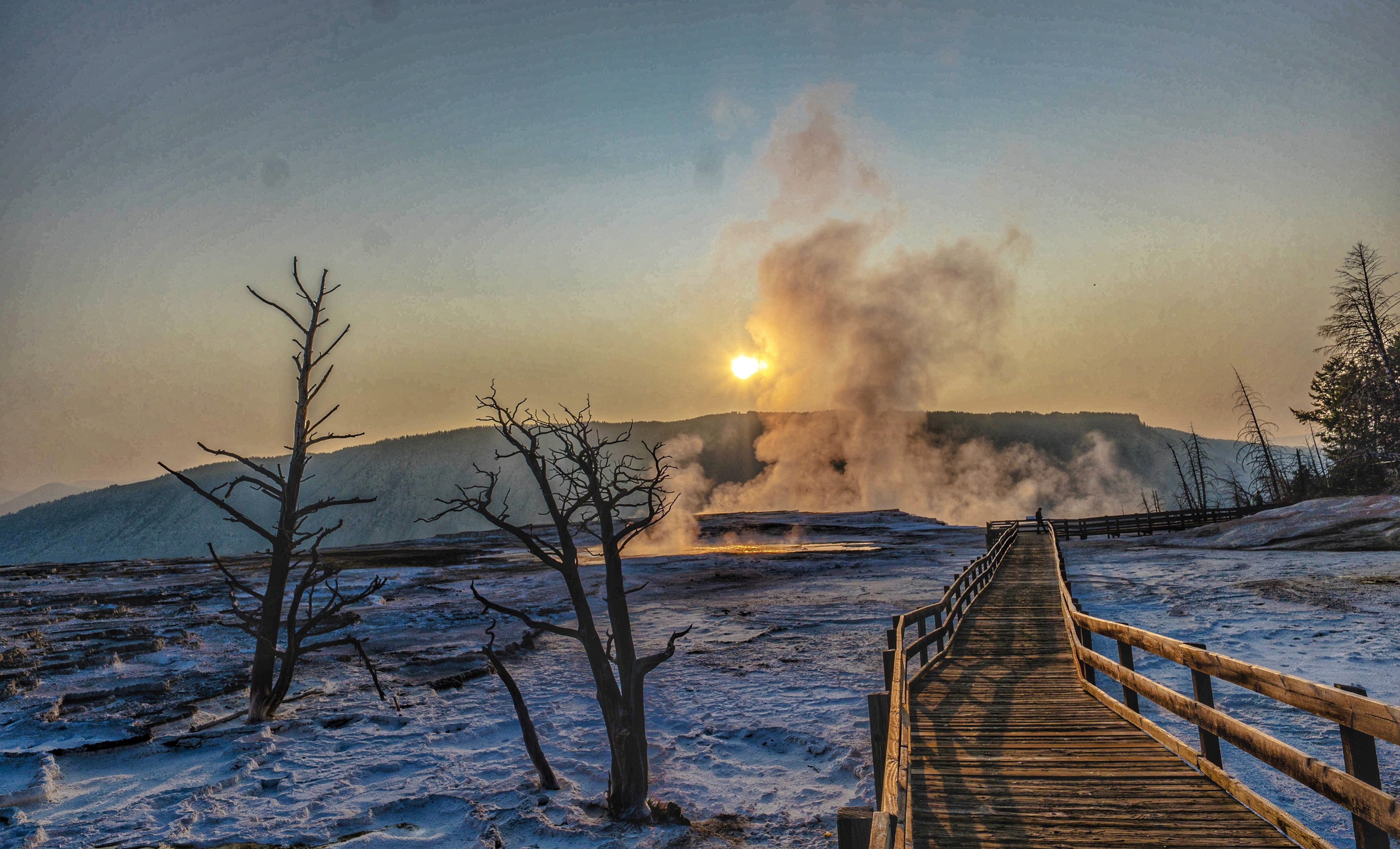 "A short, but very satisfying hike," I thought as I finish the handicap-friendly walking bridge trail. I look down at my watch and see it's 7:00am, so I figure I should head over to the backcountry office and get my spot in line before it opens at 7:30am. I make a stop at a gas station to get another cup of coffee, before making my way to secure a permit for where I'll be sleeping tonight. I realize that I have a weird and unwarranted feeling of confidence about getting a good campsite, which is probably the opposite of how I should feel considering how my last experience went at an NPS backcountry permit office. I know I want to camp either in the lake or canyon area, but don't have a real plan in place. I'm  strangely OK with the idea of that which is weird as it's very much the opposite of how my usual OCD-planner mind works.
         There are only a couple groups in front of me and considering how massive Yellowstone is, I know that I'll be able to get a spot. 7:30am hits and the doors open, so we all head inside to find out what our 'fate' will be. The backcountry office is a small room that's tucked in the back corner basement of Yellowstone's HQ building. I scan the room as a bear safety video is playing in the background; on the back wall, there's a giant whiteboard which lists all the grizzly bear sightings and what campsites should be on watch. At the top, in all caps reads, "HUGE GRIZ - Lake area," preceded by the specific sites that they decided are too dangerous to issue permits. "The Canyon sounds nice," I thought as I quickly decided to take a hard-pass on camping in the lake area.
           A group of five college buddies from Columbus are in front of me and we start conversing while we wait for the husband and wife to finish talking with the ranger. "What area in the park are you thinking of camping?" I ask to one of the guys, Peter. "Well, we were thinking the lake area but that grizzly warning has Matt freaked out." Peter replies. "Yeah right dude! I could totally outrun a bear if it came to our camp." Matt says with a tone not insinuating he's joking. "Dude. No you can't, bears run over 30 miles per hour!" Peter responds as I give a nod of confirmation, having learned the same fun fact while at Glacier. "Well, I'm faster than you so if it chases us then you're fucked." Matt replies, successfully ending the entertaining debate which I'm pretty sure I've already had with my buddies.
         "Next group up," shouts the ranger as the couple walks out of the office with permit in-hand. "You go ahead man, we need to figure this out before we lock anything down." Peter says while waving me to the front. I get up to the desk and start reviewing the huge backcountry campsite map with the very friendly ranger, Patti. "Alright Patti, I'm thinking the canyon area and I'm looking to go a total of ten miles or less, but as scenic as possible." After a quick scan of her map, Patti looks back up at me and replies in an excited tone, "It looks like the Seven Mile Hole is open, which is one of our most popular in that area! It's down at the base of the canyon, so it's extremely steep. You also need to make sure to stay on the trail as you'll pass through active thermal areas." 'Sounds tight,' I think to myself while contemplating the choice. I remember reading about the famous trail in the months prior to the trip and although it's a little more aggressive than I was planning, especially considering the condition of my foot, I'm feeling great mentally and itching to get back into the backcountry again so I reply with, "seven mile hole it is!"
            I get back into my car and head south east to the canyon region of Yellowstone. As I make my way via the breathtaking Grand Loop Road, I start to reflect on the first time I visited Yellowstone. It was in 1999, when I was just nine years old and we did it with our dear family friends, the Phillip's. Jamie Phillips and my Mother were college roommates at Bowling Green State University and they have remained as close as could be ever since. They were the type of family friends that we called the parents 'Aunt and Uncle' and the kids 'cousins", all of them are some of the best human beings that I know. It was the ultimate American family road trip, which started at our respective home cities of Cincinnati and Detroit. What happens when ten people drive over 1,700 miles across the country packed tight in two minivans? Timeless memories and hilarious stories that sound like they could be taken straight from a Chevy Chase family vacation movie. No idea how the four adults put up with the six kids, all of us seemingly in our awkward stage at the same time, but I'm sure glad they did as it was truly what started my love for the outdoors. Respect.
           As I'm making the turn at Tower Junction, right where the Roosevelt Lodge is, something catches the corner of my eye and I proceed to do a full U-turn before pulling into the parking lot. Big yellow wagons line up along the back and I have to get out to snap a picture as we rode in these same carriages during our visit almost twenty years ago. It was to an old western-style cookout and is one of my best memories of the the trip. I get back in the car with a big smile on my face with my high spirits being lifted even further, as I complete the final stretch to the Canyon visitor center.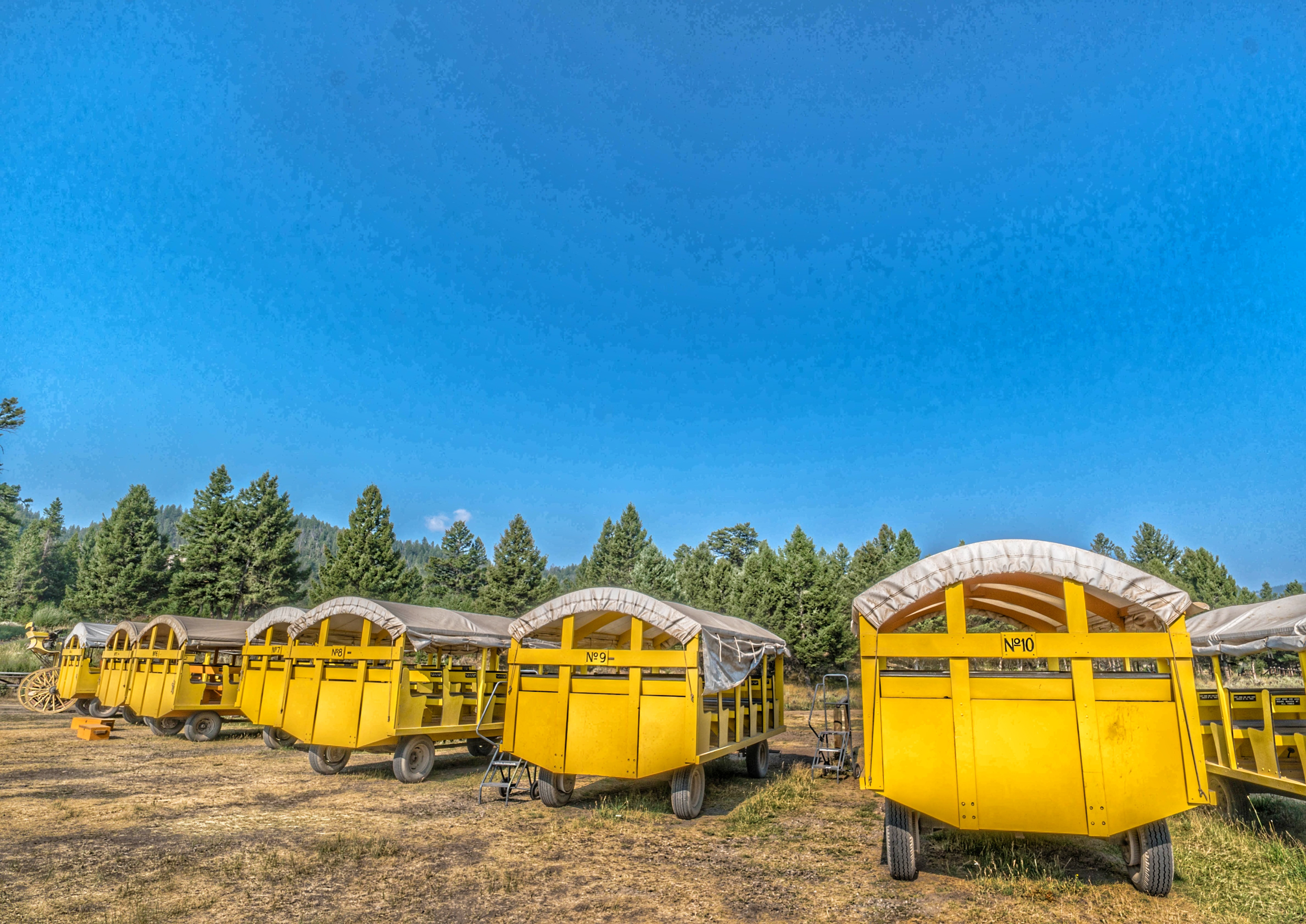 The trailhead is close by and since it's only about 9:30am, I decide to take my time and head into the visitor center to check it out and learn some interesting fun facts. Canyon Village is one of the biggest tourist draws to the park as it has lodging, campsites, souvenir shops and a food court, all right around the corner from two iconic Yellowstone attractions: the Lower Falls and the Grand Canyon of Yellowstone. The area is also known for thermal areas; in fact, Yellowstone itself is classified as an active volcano.
FUN FACT: The entire area of Yellowstone is not only an active volcano, but it's officially classified as a supervolcano. That term implies an eruption of magnitude 8 on the 'Volcano Explosivity Index', indicating an eruption of more than 250 cubic miles of magma. Yellowstone's volcano has erupted three times, with the oldest just over 2 million years ago and the most recent being 640,000 years ago. The biggest of the three was 6,000 times larger than the eruption of Mt. St. Helens in Washington. The bubbling geysers and hot springs in the park are an indication of the churning activity below the surface.